Dressing up for Halloween or for any costume party can be fun. But, sometimes, deciding on the perfect costume is hard, especially if you and your partner are planning to dress up as a pair or in matching costumes. Now, if you have absolutely no idea what to dress up as, you don't have to wrack your brains out to come up with a great concept. You can wear a couples costume and have fun with it.
The good news is that there are a lot of couples costumes you can choose from, and they're all pretty interesting. What's more, it gives you a fun and exciting activity to do together. You can play up your characters and let the banter bounce off each other.
Couples costumes allow you to be more creative. With an endless array of choices, you can find one that fits your budget. You can splurge on an elaborate costume for both of you, or you can do some DIY so you don't have to spend a lot.
The cost is the last thing that you should worry about when it comes to the couple's costumes. You don't have to shell out a lot to make an impression. In fact, you can probably get away with some old t-shirt, a bit of imagination, and a few dollars.
For example, you can buy a long black wig, put it over your face and don a white long dress and call yourself Sadako, while your partner dresses up in papier-mache water well, or papier-mache TV. Then delight your friends with a re-enactment of different scenes from the Japanese horror movie "The Ring."
If you are at a loss of what to go as we have some ideas that might spark creativity and imagination. We have put together some of the best couples costume ideas for you and your partner.
How Do You Choose a Couples Costume for You and Your Partner?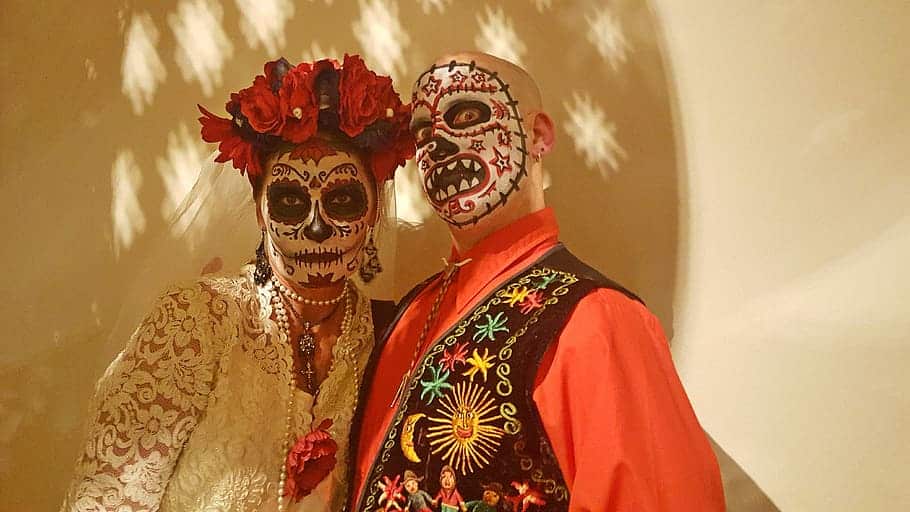 Costume parties are a great opportunity to let loose, be silly, enjoy, and showcase your creative side. With dozens of options, it's easy to get overwhelmed and just get stuck. The trick is to first narrow down your choices by considering a few things.
Do you both like it? Couple costumes need to be something that both you and your partner agree on. It's supposed to be fun for both of you, so you should each like and be comfortable wearing your assigned costume and not feel forced at all.
Be sensitive to your partner. Some costumes may not give your partner a good look. For instance, having yourself dressed up as Cruella de Vil and having your partner suit up as one of the Dalmatians. If your partner is 100 percent into it and wouldn't mind walking around in polka dots and with a leash around his neck, then go ahead. But if it's something you insisted on doing and your partner is hesitant initially, then proceed to the next costume idea.
Do the costumes reflect your personality? Pulling off a couples costume can be a bit trickier than individual get-ups. If you're a fun-loving couple, you will be able to get into character a whole lot easier. But not everybody can. Choose a couples costume that you can identify with and play up.
Is it within your budget? The good news is that there are couples costumes that you can buy or make that's totally within your budget. Remember that it's just something that you're going to wear once or twice a year. There's no need to go big and give Heidi Klum and Seal a run for their money.
After narrowing your choices down, you now pick a couples costume that you can both enjoy wearing. If you're still drawing blanks, then read on and get some wonderful ideas on what to go as this year.
The Best Couples Costumes Ideas Today
Couples costumes can bring out the best couple in you. But if you and your partner always struggle coming up with the perfect costume, then there is no need to fret.
There is also no need to settle for the predictable and boring options. How many couples have gone as Mickey and Minnie or as Fred and Wilma Flintstone over the years? We've lost count!
So how about something fresh, fun, and fierce that can easily help you snag the best costume award?
Iconic Couples
Keep in mind that the best costumes are those that are instantly recognizable. If it's something you have to explain to every person you talk to, then it's a sure fail.
Wayne and Garth from Wayne's World
You might have to explain to today's kids who Wayne and Garth are, but your friends and the rest of the boomer set might exclaim, "Hurl!" or "Party on!" when they see you and your partner in this blast from the past costume.
You can get totally dopey and act silly. It's Halloween, anyway, so who cares? Plus, you can play your characters up easily with your favorite Wayne's World catchphrases.
King Louis XVI and Marie Antoinette
If you're more of the old-fashioned type, then go far back in time to the 18th century! Dress up as the most famous French monarchs, King Louis XVI and Marie Antoinette.
You don't even have to buy those big, white wigs because you can use paper for it. Just this like crafty couple:
And if you're Marie Antoinette, go the extra mile and take a slice of cake with you to offer starving peasants.
Jack and Sally from the Nightmare Before Christmas
An unlikely pair, but love wins in the end when Jack and Sally find that they were meant for each other. You know, it's kinda like how you'd want your love story to be.
You can get the Sally costume here. You have to admit, it's quite chic and we're tempted to wear it on ordinary days, perhaps while grocery shopping. You can also buy the Jack costume here.
An added plus is that you can use this costume for both Halloween and Christmas costume parties.
Edward Scissorhands and His Topiary
Not all couples costumes need to be both humans. Edward Scissorhands had a talent for making topiary bushes. How's this for inspiration?
Want to get this look? Guys can get this Edward Scissorhands costume. And yes, the ladies can too!
Meanwhile, making the topiary, you will need:
Money Heist Couple
You can also go as a couple from Money Heist. You will be both dressed in red hoodie jumpsuits and Dali masks.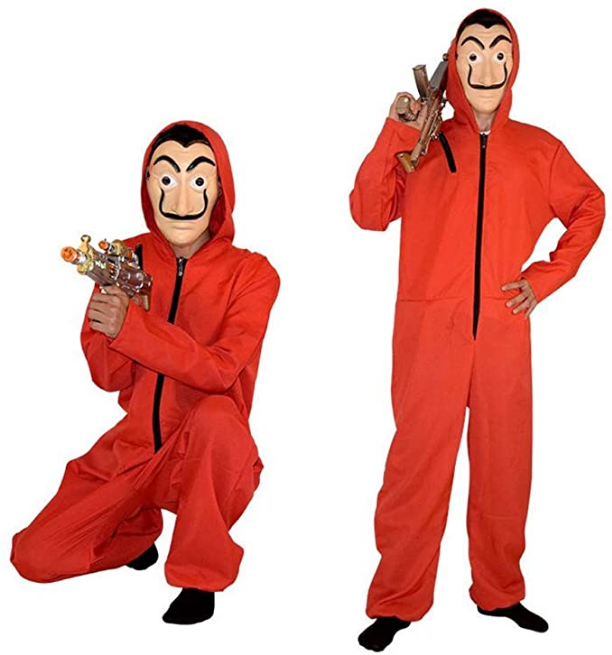 Add a twist by letting people guess which couple you are. Carry the flags representing your Capital names, like the Japanese and Brazilian flags for Tokyo and Rio. Or the U.S. and Swedish flags for Denver and Stockholm.
Things That Go Together
Aside from iconic couples, some things go together. That is, if you see one, you will undoubtedly think of the other. Like pizza and beer, or a coin and gumball machine.
If you're planning on overstaying your welcome at the costume party, you might as well show up as tomorrow's breakfast. While some are halves of the same thing. Show up as one half of an avocado, while your partner dons the other half.
However, if you'd like to go as characters that belong together instead of inanimate objects.
Conversely, you can do away with the strings and do a ventriloquist act. You can even perform like Roxie and Billy Flynn in the musical Chicago's We Both Reached for the Gun scene.
Pun and Fun with Word Play
Witty wordplay and costumes? Why not! Do some creative interpretation of everyday words. And see if your friends can figure it out.
Baseball Bat, Get It?
Another way to have fun with words is by coming up with couples costumes that have double meanings. Like this baseball bat couple costume. One is a baseball, the other is a bat.
Taco Belle
Get a taco costume and a yellow gown, and have your friends guess what company you guys went as.
Yes, it's "taco Belle"
Netflix and Chill
Iconic slogans are at the top of everybody's minds. Give a new meaning to Netflix and chill with this couple's costume.
Unique and Fun Couples Costume Ideas
Of course, there are ideas that you can only come up with and you can be sure nobody else in the world will have the same getup as you.
Go as Each Other
It's sweet, it's fun, it's an excellent way to step into the other's shoes, literally. Couples can dress up as each other. This is a fun exercise as you can copy each other's looks and even how the other speaks and acts. What's more, the costumes you need are already in your closet! Accentuate your partner's best blings, best clothes, and top it by copying his or her endearing mannerisms. It's also a great way to celebrate each other's cultures, especially if you are a multi-racial couple.
How About Some Twinning?
Okay, so you may find the thought of twinning cheesy. And, yes wearing regular clothes might be too ordinary so it might not work as a costume. But if you put a little thought into it, you may be able to pull it off.
Like these ladies did.
It may be simple, but it allows you to make a statement. This twinning twosome took the iconic Rosie the Riveter and paid tribute to the women who worked during the Second World War.
Get the look by getting a denim short sleeve shirt and a red bandana. You can also get away with donning a red bandana headband like this one.
Alternatively, you can creep out your friends by going as the Grady twins from the movie "The Shining."
Get a knockoff of this dress here.
If you like fun twinning costumes, you can pay homage to Dr. Seuss, and show up as Thing One and Thing Two.
It's Just Puzzling
Nothing says "you complete me" more than going as puzzle pieces that fit together on Halloween.
Toy Soldiers
If you have military uniforms, raincoats, or blazers around, and some green body paint, why not go as toy soldiers?
Last Minute? Be Creative!
If you are running out of time and you can't seem to find the perfect costume, then be creative. Did you go to your favorite costume rental store and found that t0hey are closed because of the pandemic? Don't worry, here are some things that you can try.
Poking Fun at Filters
Do you know how they say that most people filter their pictures to death? That if you ever go missing, people won't recognize you from your Instagram photos?
Putting Yourself on the Map
Another quick and easy couples costume is to recreate Google Maps using a gray t-shirt, some yellow tape, a few pieces of paper, and a bit of creativity.
You should totally do the red pins too! It's a good idea to put the pin to your house, just in case you get too drunk to tell the cab driver where you live.
FAQs About the Best Couples Costume Ideas
Is it more difficult to go in a couples come than going solo?
Not at all. Rather than think of two different costumes for each of you, you might as well work on a couples costume. You only have to deal with one idea and one concept for both of you. As with any costume idea, it helps to start early. Don't let Halloween creep up on you, forcing you to just go with a boring and unimaginative costume because you've run out of time to make your concepts come to life.
Plus, creating your costumes earlier will help you avoid the stress of rushing it during the last few days of October.
Can couples costumes help me save?
This will make it more economical. If you're doing it yourself, then you get to save on the materials as well.
For example, if you are doing the toy soldiers' idea, you can use the green paint for both your costumes, rather than be stuck with a half-empty can of paint that you probably won't use anyway.
Where can I find more couples costume ideas?
You can go to Twitter, Instagram, or Facebook to see what your friends and connections have done in the years past. But what we have suggested above are some of the freshest and most fun ideas that we have found. Plus, you might get overwhelmed by the sheer number of ideas out there.
Is it really more fun to wear couples' costumes?
Trust us it is. The fun starts with you trying to decide what to go as, you and your partner can have fun discussing your costumes, your concepts, and what you'd do when you're already at the party.
Because you're dressing up as related characters, you can ramp the play-acting up. Your Wayne can very well banter with your partner's Garth. Or you can have royal conversations as King Louis XVI and Marie Antoinette. You can both stand eerily along hallways together as the Grady twins.
In short, you will never run out of things to do! Try doing that if you go as Aquaman and Twilight Sparkle from My Little Pony.
The Best Couples Costume Ideas to Get Your Imagination Fired Up
These fresh ideas for a couples costume will allow you to wow your friends and family. Don't just show up as Mickey and Minnie this year! They are fun, are easy to do, and would fit any budget.
Tidy up your trophy case, because if you take up these ideas, then you're in the running for the best costume of the night