Unicorns have gotten very popular in the last several years, with unicorn print designs, unicorn-themed parties, and unicorn-inspired items present everywhere you look.
And it's not just little girls who find unicorns appealing; even grow-ups are attracted to this beautiful mystical creature, which is now typically presented in soft pastel candy colors, sometimes with a touch of glitter.
So it's not surprising if a unicorn comes to mind when thinking of a costume to wear to a fancy dress event or to a Halloween party. For one, unicorn costumes are easy to find, and they're also easy to make if you're going the DIY route. But for us, the best unicorn costume ideas are those with a unique or funny twist to them.
Here are our nifty suggestions on how to turn an otherwise too common and overly used costume idea into something interesting.
Cardboard Unicorn
If you are comfortable with a pair of scissors and some paint, you can turn your unicorn costume idea into a craft project. This way, you don't have to make do with any store-bought costume made of cheap fabric, tulle, and a horn headband. Instead, you can use cardboard to create a unicorn that you can "wear".
You can follow a template, cut the cardboard, and assemble the parts using hot glue so you or your kids can slip into the unicorn box. You will wear the unicorn through shoulder straps to keep it from falling to the ground. Check out this video to get an idea:
If you don't like to follow a template, you can also just wing it and make your own unicorn design on the cardboard. Just make sure you will fit into the cardboard and that you have attached the straps strongly enough, so they don't break off.
Unicorn Piñata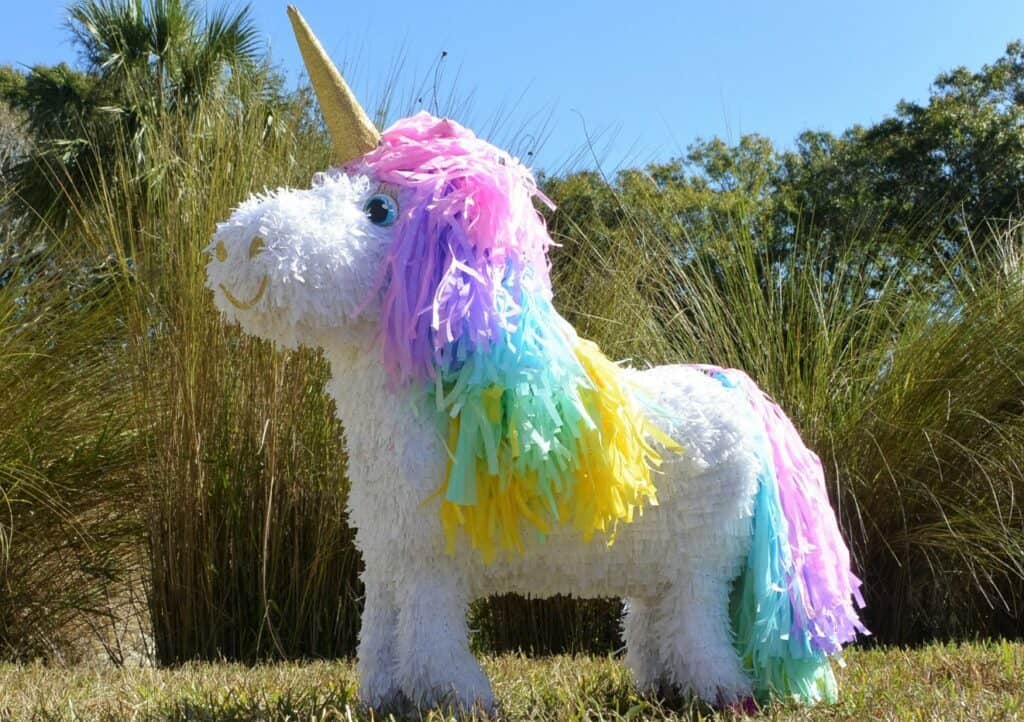 A unicorn piñata costume is a more festive variation of the cardboard unicorn costume. But instead of paint, this one will have bright-colored tissue or crepe paper cut into strips with fringes and then wrapped around the cardboard form in layers.
Think of something like this, only large enough for you to wear it around your waist and kept in place by shoulder straps:
You can do away with the cardboard entirely if you don't want the extra hassle. Just wrap yourself with layers of colored tissue or crepe paper and add a unicorn horn headband. If you think the paper is too flimsy and anticipate moving around a lot of dancing at the party, use strips of plain colored fabric with fringes. It would even be better if you sew these strips onto a leotard.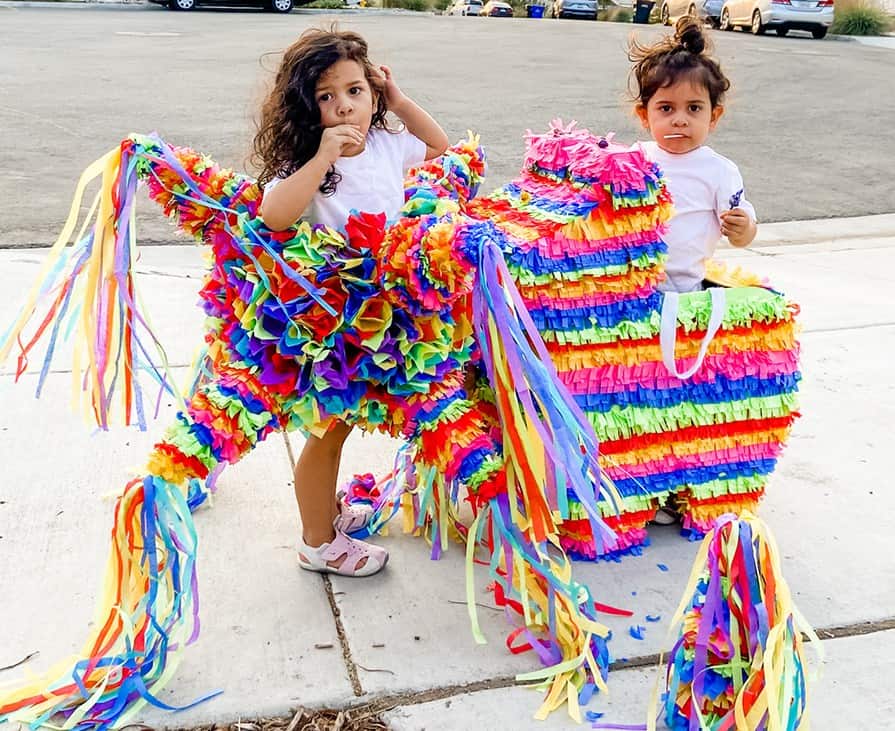 Unicorn Pool Floatie
You don't have to go to a costume store to get a costume. And you don't need to craft or create something either. You can simply Go to the toy or swimwear section of the department store, grab a small inflatable unicorn floaty, wear it around your waist, and you're all set. This unicorn-on-the-beach ensemble will surely earn a few laughs if you complete the look with a lovely swimsuit, a pair of goggles, and a pair of arm trainer floaties.
In fact, an inflatable unicorn pool floaties would make the perfect costume for men because it's unique enough and very effortless. It also doesn't impede movement because it's lightweight, it's not obstructive to your feet, and you can slip out of it easily whenever you need to sit.
Goth Unicorn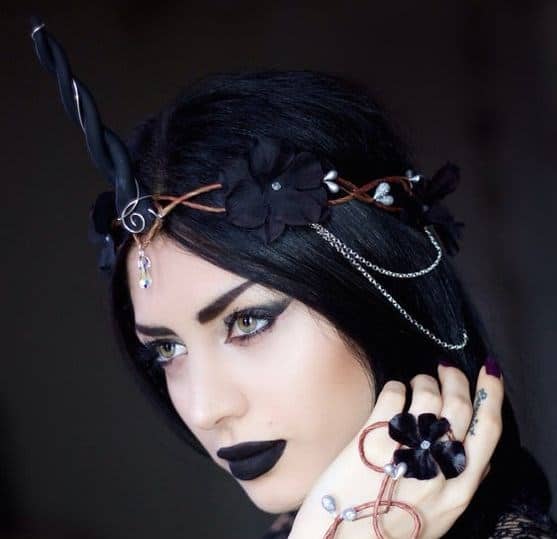 When we think of unicorns, we also automatically think of whites, pinks, light blues, and other pastel hues. What if you break this usual picture of unicorns in cotton candy or bubblegum colors? Go Goth or emo and pick everything in black. Get a black dress, paint your nails black, make a black unicorn horn, use black makeup, wear black accessories, and don't scrimp on black eyeliner.
Take a look at this lady as a gorgeous black unicorn:
Snow Unicorn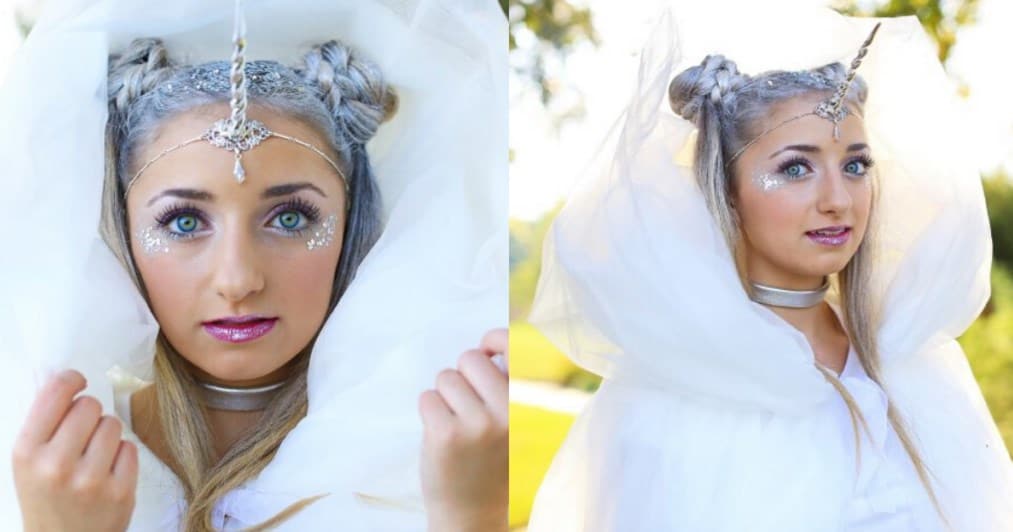 If going dark or Goth is not your cup of tea, then be a glamorous white unicorn. We're talking white gown or white fur coat, white makeup, white hair spray or white wig, white horn, and maybe lots of white glitter and crystal accessories.
This girl looks like a cross between the snow queen and a unicorn:
Watch this video tutorial that teaches you how to do a white unicorn hair and makeup:
Unicorn Candy Milkshake
Because unicorns are a hot, trendy thing, there are a lot of unicorn-themed beverages. So you can come as a candy milkshake, complete with candy stripes, a lollipop, rainbow sprinkles, paper straw, and a unicorn horn on your forehead.
You just need to be skillful with cardboard, paint, and hot glue because that's how you will be making the cup, the candy stripes, the straw, the lollipop, and the unicorn horn. You may also need cotton or white felt wool for your whipped cream and packing noodles for your sprinkles.
Inflatable Unicorn Costume
Remember that uber-cute inflatable T-Rex dinosaur costume? What makes it extra adorable is the way it makes you walk or, more precisely, waddle.
We are talking about this:
So we just had to check if there is a unicorn version of that blow-up costume. And there is! It's also just as cute as the T-Rex one.
In fact, if you look into Amazon, there's a full-body blow-up costume, and there's also a half-body design. Your upper torso is exposed with the half-body, and you would look like you are riding on a unicorn.
Unicorn Centaur
If you still have plenty of time to work on your costume before the party and if you don't have problems getting down and dirty, you can make a unicorn's lower torso and hind legs. Then you can come as a walking unicorn-centaur.
Take a look at this girl's centaur costume. Of course, you will have to put on a horn to make it a unicorn.
And she has shared a tutorial on how she made the hind part:
Unicorn Balloon Sculpture
Another excellent unicorn costume idea is a wearable balloon sculpture. This is something that would be very appealing for kids, too. Because which kid doesn't love balloons, right? You would need a balloon twisting artist or balloon sculptor for this, though. Or, you can learn how to make it yourself if you're going for simple designs.
One of the easiest ones to make is a unicorn balloon hat like this. Just wear the balloon hat on your head and put on a lovely pastel dress. Better yet, wear a fluffy tutu with it!
Here's a quick and easy YouTube tutorial on how to make this balloon hat:
A more complicated design, but still something you can learn to make yourself, is a floatie-style unicorn balloon sculpture. Here is how it looks like. But make yours so that it fits snugly on your (or your kid's) waist, and you don't have to hold it all the time.
And here is a video tutorial on how to make a unicorn balloon costume in another floatie-style design:
The most elaborate unicorn balloon sculpture is a full-body design like the one shown in the video below. So if you have a professional balloon artist nearby who can make something like this, you may want to order and specify your size.
Unicorn Cake Costume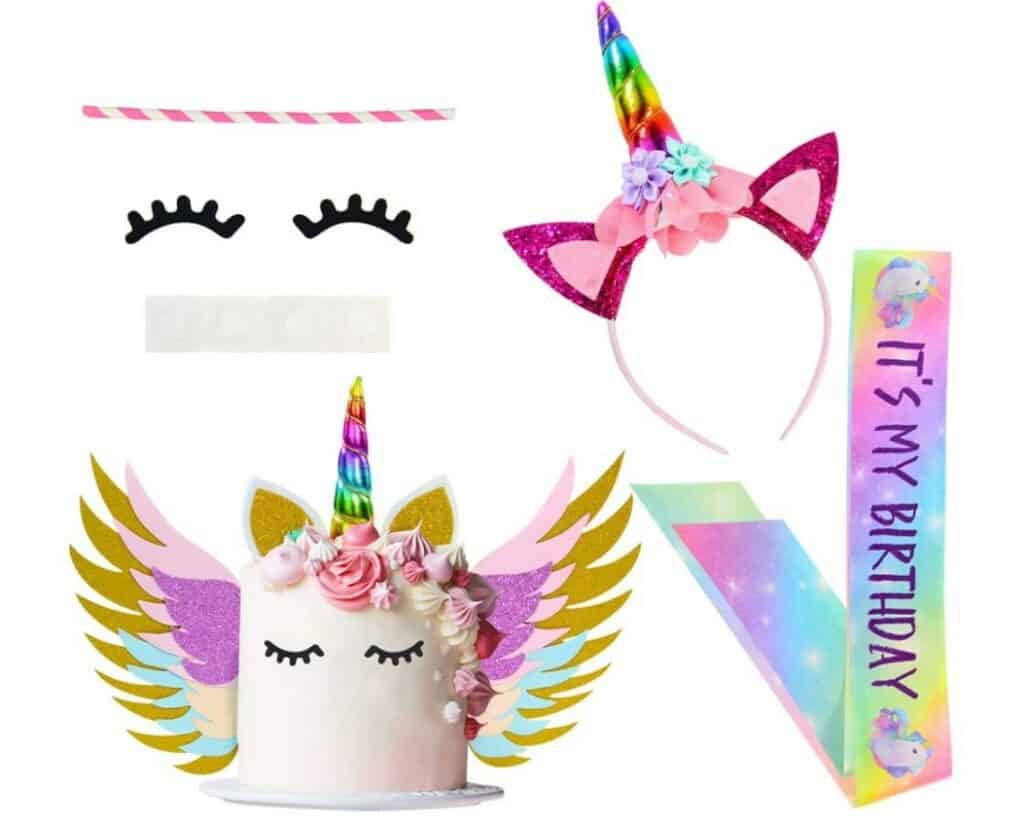 You can combine the love for food and unicorn in one crafty costume. We're talking about a costume inspired by a unicorn-themed cake, like this:
It's easy to make if you know how to work with cardboard, Styrofoam, paint, hot glue, colored paper, felt cloth, and colored tulle. You can go with any cake design you like.
And you know what would be fun? If there are two of you and one would be the unicorn candy milkshake.
Lego Unicorn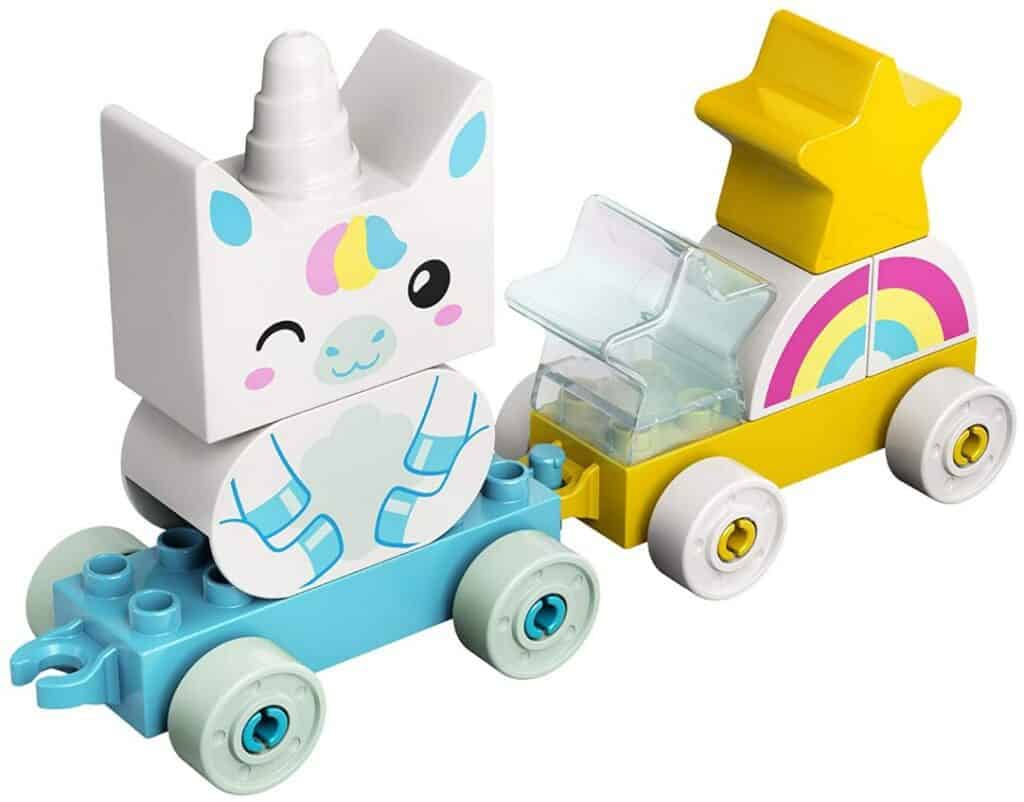 You can use cardboards to assemble a Lego-inspired unicorn costume. You can make your own unicorn Lego design, like this:
It just needs to be sized just right so that you can wear it comfortably. Cut a hole on the back so you could slip inside and attach straps for your shoulders.
Horse Head Mask With Horn
Are you familiar with those rubber horse head masks? Here's an idea: get one of those and add a horn to make it into a unicorn. Some people do find these horse masks funny.
This is how the mask looks like: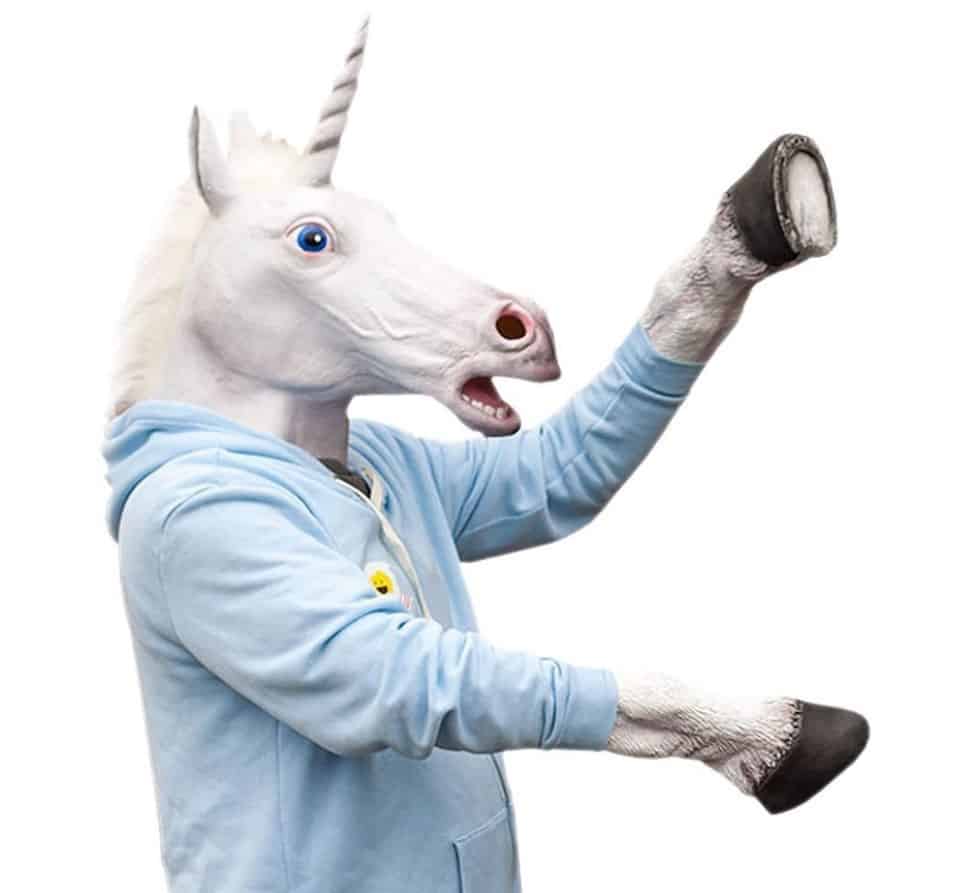 Galarian Ponyta (Unicorn Pokemon)
If you are a Pokemon fan, you probably already know that there's a unicorn Pokemon named Galarian Ponyta.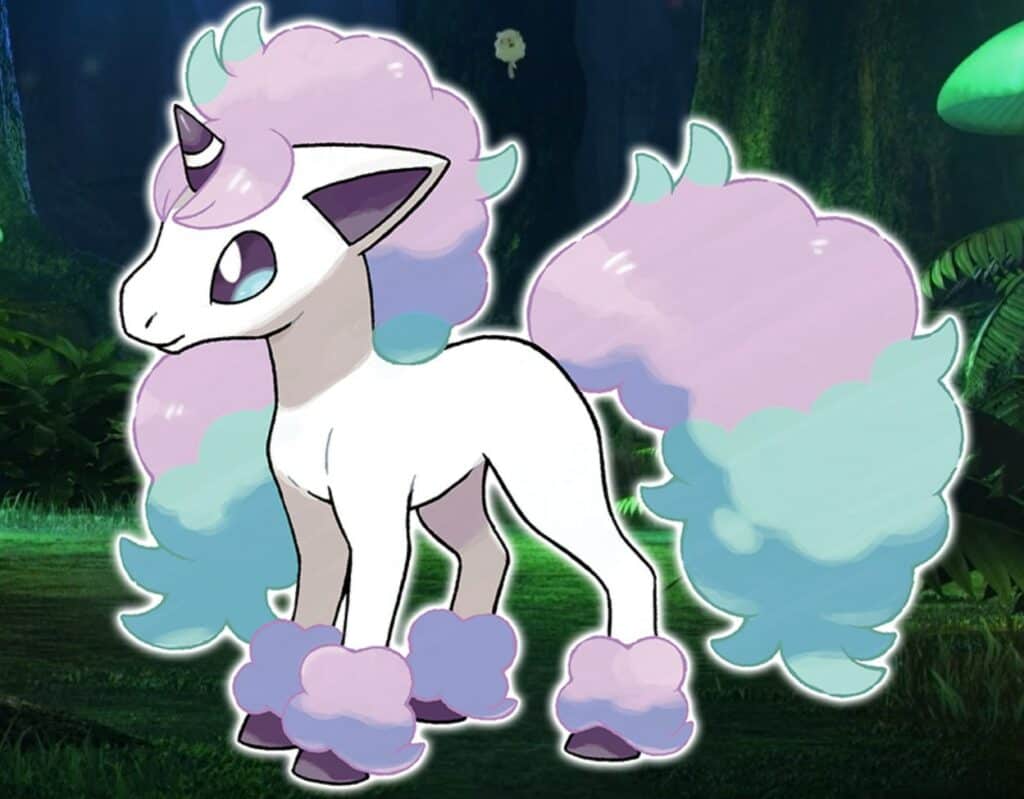 We're pretty sure not too many people know about her. So if you're up to making your costume and character a conversation piece, then go for it. People might wonder who you're dressed up as, and you might find yourself having to explain to whoever asks.
You can do your costume cosplay-style with the wig, makeup, and custom attire. Like this:
My Little Pony Characters
If we are talking about unicorn costumes for your little girl and she happens to love My Little Pony, then there are many horned ponies you can choose from. Twilight Sparkle and Rarity are the most popular unicorns of the gang.
Here's Twilight Sparkle: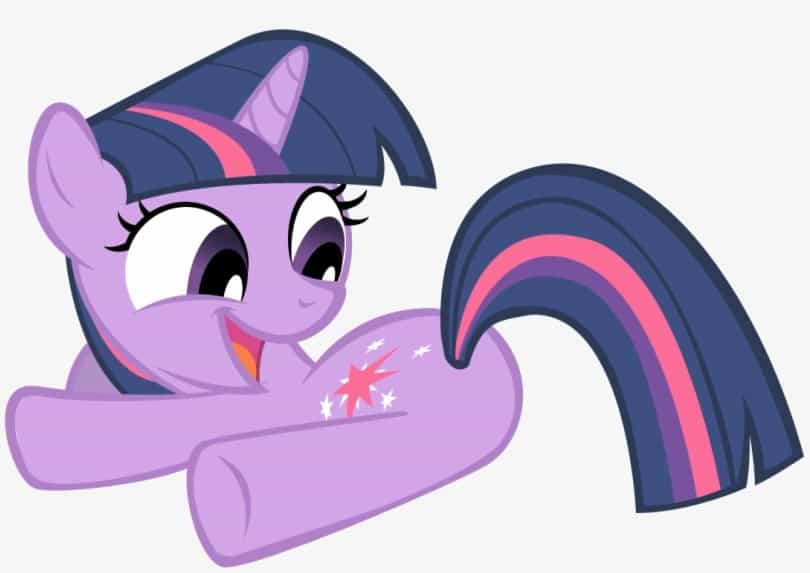 And here's Rarity: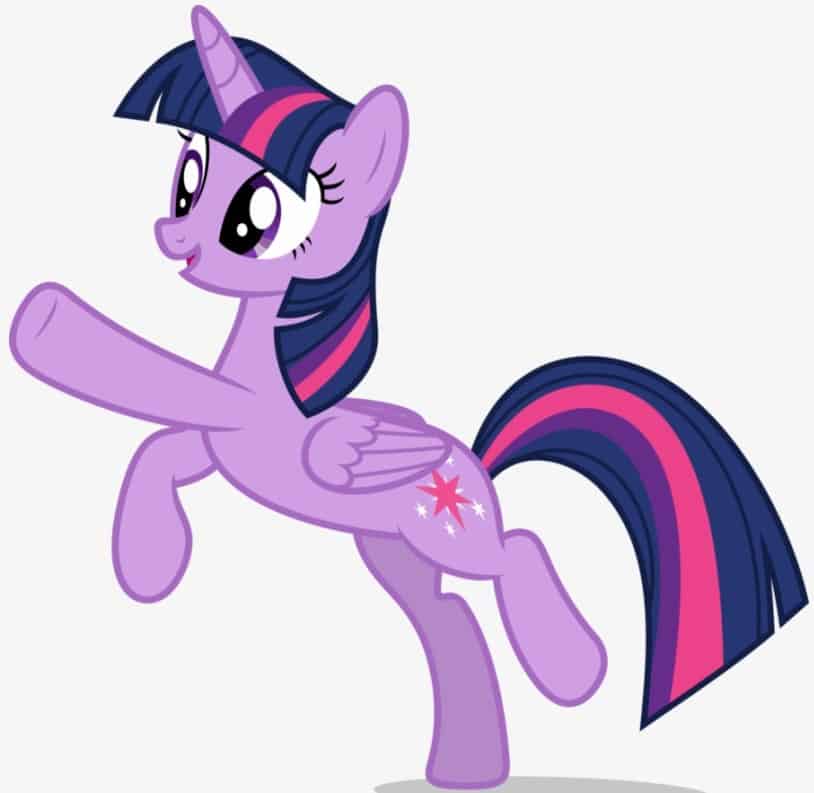 You can get ready-to-wear My Little Pony costumes like this from online stores:
You can also put your crafting skills to use and make the costume yourself. It's nothing some felt cardboard, fabric, wig, tutu, headband, and colored paint can't achieve.
Here's an example of a DIY Twilight Sparkle costume one mom made for her daughters: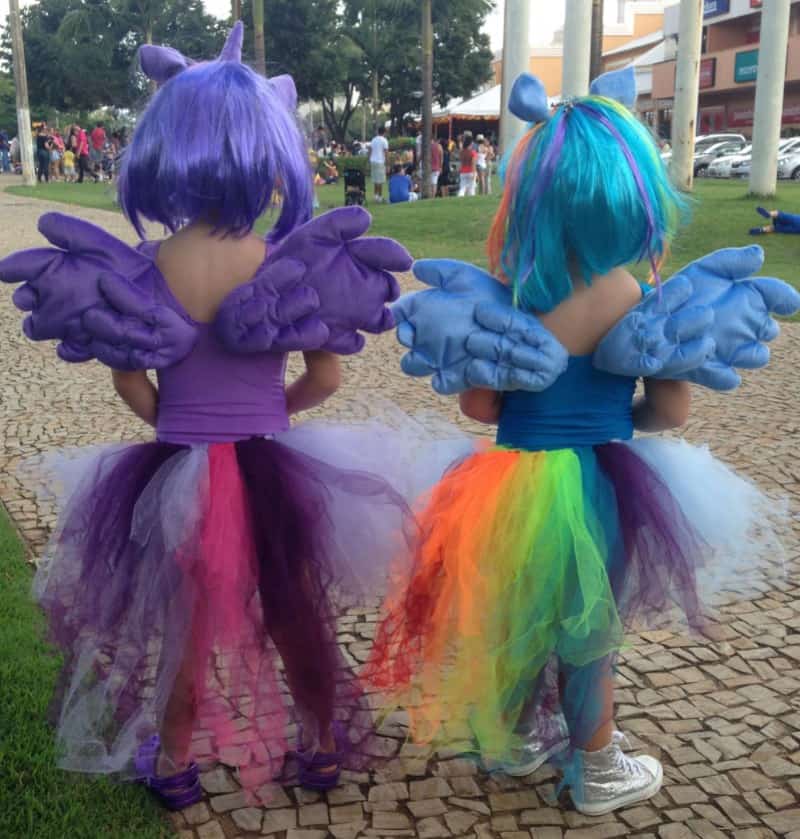 Here's a video of cardboard My Little Pony costume:
Of course, older girls can totally do a My Little Pony cosplay getup. All you must do is get a headband with the ears and horn, get the right colored wig, and wear anything sexy with the same color palette as the character.
Check out what these Twilight Sparkle cosplayers did:
The good thing about cosplay costumes for characters like this is you can do it with a totally different approach. Like this girl's take on Twilight Sparkle:
Meanwhile, check out the cosplayers' different version of Rarity: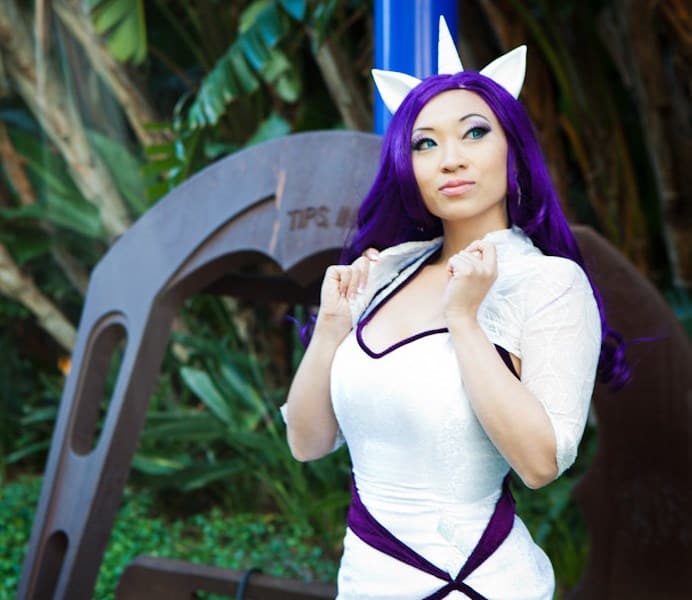 So yes, when you decide to cosplay and come as a unicorn, the sky is the limit to what you can do. The only secret "ingredient" is your horn.
Getting the Right Unicorn Headpiece
The horn is the most important accessory to any unicorn costume. So, whatever costume idea you are going with, it is crucial that your horn is well-made and is attached securely to your head.
The most common way to wear a horn is through a headband. You can make a horn out of light materials like cardboard, foam, or felt so that you can attach it securely to the headband, and it won't fall off in case you move around a lot, or you go dancing. Most crafters would also add flowers around the base of the horn and along the headband to cover any visible traces of glue.
Here's a tutorial video on how to make a unicorn headband:
You can also make one with an elastic or a string, like this:
If you don't like making your own unicorn horn, tons of unicorn headbands are sold online. Most of the first ones you will see are the usual headbands with flowers.
However, suppose you are looking for something without the colorful flowers or something more elegant and classy, especially for cosplay. In that case, there are many different unicorn headpieces in various styles and designs from online sellers on Etsy, Instagram, and personal sites.
One example would be this unicorn headpiece: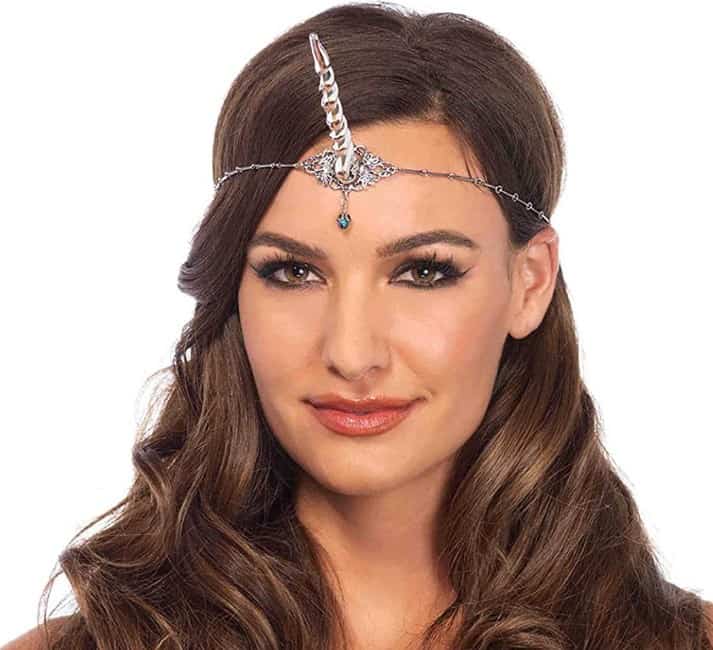 Here's a video on how to use spirit gum and other adhesives:
Of course, there are unicorn headpieces that look more like jewelry. These are perfect for cosplayers who love to add that ethereal feel to their costume.
Frequently Asked Questions
Here are the most frequently asked questions about unicorn costumes:
Question: What is the best material for a DIY unicorn horn?
Answer: The best material for a DIY unicorn horn is foam, thick felt, or cardboard. These materials are easy to cut, form, and attach with hot glue. They are also sturdy and will remain standing in shape, regardless of room temperature and regardless of how much you move. Most importantly, foam, cardboard, and felt cloth are lightweight, so your glue or adhesive will be able to hold the horn firmly in place on your headband or ribbon. You can even attach your horn directly to your forehead.
Question: What should I wear under a unicorn costume made of cardboard?
Answer: The best thing to wear with a bigger costume like ones made of cardboard is a plain-colored leotard, bodysuit, or tights. You will be able to move comfortably underneath your costume and there are no obstructive design elements. For one, leopards don't have zippers or buttons that will get stuck in any part of your costume and you can easily slide out of it when you want to sit down or when you feel hot.
Wearing leotards in plain but complementing colors will also make sure nothing clashes with your costume and people's eyes are not averted from it. People will be able to focus on the details of your costume.
Question: Do unicorn costumes always come with wings?
Answer: If you are not dressing as a particular winged unicorn character, the wings are totally optional. If you want to make or buy wings and you think it will complete the unicorn costume you have in mind, then go ahead. But if you don't want to make wings or you can't be sure you can make a nice, seamless pair, your unicorn costume will still be complete without it.
Wearing wings will also require commitment because it will impede your movements a bit. You will need a wider space when you walk or sit, too.
Question: What footwear goes best with a unicorn costume?
Answer: Wear whatever goes well with your costume as long as it's comfortable. You can wear simple and plain shoes, like ballet flats, in colors that will complement your costume. You can also wear heeled boots, or even Uggs, as long as they don't clash with your upper outfit.
Conclusion
Unicorns are trendy and fun to do. And even if unicorns are all the rage these days, you can absolutely go to a unicorn-themed costume party and not look like everybody else. As such, the best unicorn costume ideas are those that you just don't get off the rack from your party store. There are ways to make your unicorn costume unique, regardless of whether you're doing it on a budget or you're splurging on your look.
Further Read: