There is nothing more fun than you and your friends or family agreeing on a single theme for your Halloween costumes. It is because some costumes are just more impactful when more than one person dresses up as a particular character. Dressing as a Powerpuff Girl, for instance, is way more effective when two of your friends are there to complete the trio.
Themed costume parties are also exciting. A party with a specific theme is way more intimate and exclusive. Everybody will be able to relate to what all the others are wearing, and this will give everyone a common ground. Costumes can become great party conversation starters.
With one unifying theme for all costumes, there is a level playing field for everyone and you all get the opportunity to showcase your creativity, go beyond expectations, and even compete for the best-dressed title, whether there is a literal award for it or just in people's minds.
While sticking to a theme limits your choices, it allows you to have an easier time picking a costume because you will know what kind of ideas to focus on. In other words, having a theme serves as a guide and will keep you from getting overwhelmed with all the costume options out there.
How to Come Up With Adult Costume Choices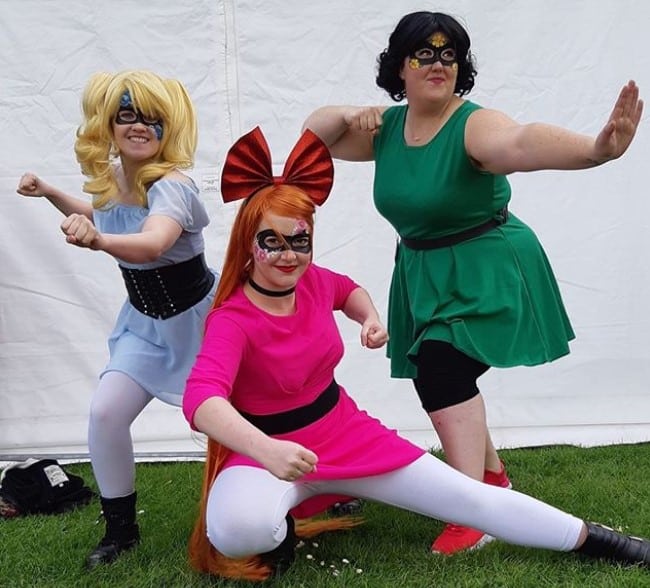 The only difficult thing about themes is that it is quite difficult to decide and agree on one. Unless, of course, you are the one throwing the party and you have all the say. In such a case, you can easily go for your favorite movie, TV series, book, or time period. Just think about a party where everyone dresses up as a Game of Thrones character, or perhaps characters from the Marvel Universe.
But if we are talking about a costume theme for your family or for your group of friends, then some head-butting will be involved. Everyone will have an idea.
So how do you decide on a themed costume? Here are some steps you may want to follow.
1. Gather Your Common Interests
If you are dressing as a group, it has to follow a theme that all of you can relate with. In other words, your theme must be a shared interest among your group.
But what if you have too many interests? The best way to go about this is to list down all the themes you would like to do. Get everyone to contribute to the list and give suggestions. And even if you are dressing as a family with young kids, the children should get a vote, too.
2. Consider Cost and Convenience
Trimming down your list of themed costume ideas is hard, especially if you love them all. If you can picture yourselves executing all these themes and, in your mind, they all look fun and exciting, then it would be hard to let go of some ideas.
The best way to go about narrowing down your theme choices is to consider the cost and the convenience of getting the costumes for every theme you are considering. Remember that you are probably going to need around three or more of these costumes and if you go with a theme where it is difficult to find costumes, that is just another headache you did not need to have.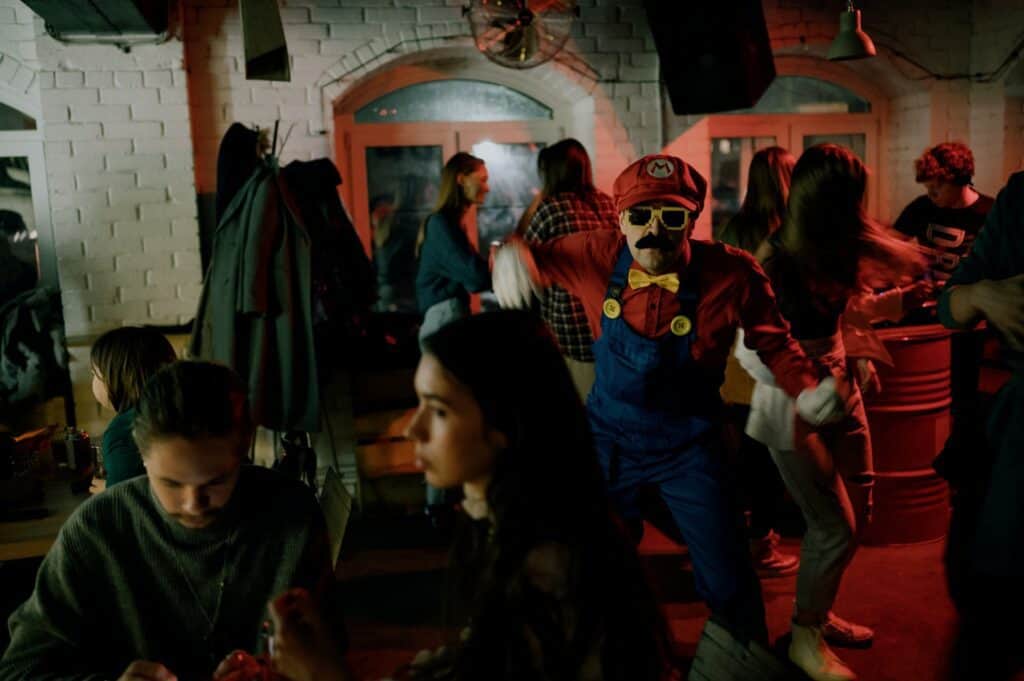 Consider also if you have to DIY your costumes or at least some parts of it. You should consider whether you have enough time to do all these 3D printing, arts and crafts, and other stuff you need for your costumes.
This step is all the more applicable if we are talking about a theme for an entire family, wherein one person is most probably in charge of paying for everything. Another consideration is if the family has kids of different ages and sizes because that could mean you will not be able to get outfits off the rack. You might need to have everything custom-made.
So you need to ask yourself some questions:
Will you be able to afford the costumes?
If you go for a theme where the costumes can be improvised and the costs are minimal, then all the better for everyone. But if it requires elaborate costumes, you need to consult everyone and make sure you all agree about the amount you will be spending.
Now, if we are talking about themed costumes for a family with kids, where you will be paying for both adults' and children's costumes, the budgeting will be a bit trickier. If this is the case, just make sure to be practical about it. Know how much you are willing to spend for a costume that your kids will most likely use once and perhaps outgrow next year.
Are the costumes or materials readily available?
Another big consideration is whether you can easily buy the costumes or at least the materials it would take to make one. If you go for custom-made outfits, is there someone who can do it? You can also decide to just get the materials and assemble the costumes yourselves, provided that there is someone in the group who is crafty enough or someone who can glue gun their way out of sticky situations.
3. Is Uniformity Necessary?
Now that you have a narrowed down list of themed costume ideas, you need to know whether you can achieve a sense of uniformity, or if it is necessary in the first place. Going back to our Powerpuff Girls example, you can just imagine how wrong it will look if you go all-out with your custom-made Buttercup costume, while Blossom just made do with what she could grab from her closet, and Bubbles merely painted a cardboard mask.
So, for a particular theme, it is important that you talk about how to achieve the look for each of your characters and the materials that you will be using to make your looks cohesive.
However, there are also a lot of themes where you do not need to worry about uniformity at all. Like a Witches and Wizards theme, or a United Nations theme.
4. Vote for a Winning Theme
Considering your interests and favorites, the costs involved in getting the costumes, the convenience, and the need for uniformity, you pretty much figured the pros and cons of each theme already. The only thing left to do is to vote for the final theme and seal the deal. And when there are many of you, the majority always wins.
What If You Are Hosting the Party and You Need to Decide on a Theme?
The process of coming up with a costume theme is different if you are the one hosting the party. Sure, it is up to you to decide on a theme and you can go the easy route by just picking your favorite anything.
But know that the success of your costume party will depend on everyone actually getting excited about going there and everyone having a great time. The only way to get people excited about attending is to get them excited to dress up and be in character, too.
As such, go for a theme that is more flexible and will give your friends more freedom to choose and more characters to pick. You can't throw a Powerpuff Girls-themed party and have different versions of Bubbles, Blossom, Buttercup, the Professor, and Mojo Jojo.
Needless to say, you can only take that theme so far and the worse thing is people might find the Powerpuff Girls concept so lame that they will not even bother going. If it is a Halloween shindig, they will probably skip your invitation and pick the next party they are invited to.
Aside from a more flexible theme, you can go for something really trendy, popular, or common among your peers. Are most of you crazy over Harry Potter? Then maybe a Harry Potter or wizard theme would work for you.
Are you a bunch of students from med school? Why not write "Theme: Anatomy" on your invite and everyone is free to give it their interpretation? And if you are LGBT advocates, perhaps you can have a RuPaul's Drag Race theme.
Best Themed Costume Ideas
In case you are still having a hard time coming up with ideas for a theme and for costumes that go with that theme, we have come up with a list of somewhat unique or popular choices to help you.
Period or Decade-Related Theme
Which decade do you find most interesting? Or which era resonates most with you and your friends? You can do a retro or vintage theme, or even pick an ancient period if you want to go a long way back. If your favorite is the 20s, then a Gatsby or Downton Abbey theme would be great.
Take a look at some costumes for making you travel in time:
Country-Related Costumes
If you have a multi-racial group, you can showcase your own culture and dress in your traditional costumes. And we cannot emphasize the "wear your own traditional costume" rule enough.
This means that you can wear a hanbok if and only if you are a Korean. Or a Native American costume if and only if you have Native American roots. Moreover, you need to be sensitive about this and steer away from anything that could have a religious significance, like hijabs and burqas.
You should also avoid sexualizing these costumes or dressing up in skimpy and sexy versions. As such, take time to do your research, especially about cultural appropriation, because what may come as totally innocent to you could be offensive to others.
A safe option is to go for film or literary references instead, for instance, you can go for an "Around the World in 80 Days" theme or an "Arabian Nights", you can also go Crazy, Rich Asians – but only if you are Asian. And who says it always has to be a traditional attire? Since Italians are known for their delicious pizza and pasta; there's a lot of options to consider.
Carnival or Mardi Gras Theme
If you have no qualms baring some flesh, putting on a feathered headdress, and being decked with glitter and shiny stones, then a carnival or Mardi Gras theme would be perfect for you and your friends.
The Venetian carnival, however, may have a masquerade ball taste to it:
Roman or Greek Mythology Theme
If you want to pick characters from Greek or Roman mythology, dress in togas and drapes, pick an element, and look like you just came down from Mt. Olympus, then be Poseidon, Artemis, Zeus, Hercules, Athena, Hades, Bacchus, Medusa, or any god or goddess you fancy.
Rock that mythology with your looks:
Famous Personality Theme
You can throw a party for famous personalities. You can all dress up as celebrities or famous figures throughout history and you can take turns guessing who you are.
Some of the popular examples are: Frida Kahlo, Vincent Van Gogh, Mother Teresa, Charlie Chaplin, the Queen, Elvis, and Marilyn Monroe, among others
Your choices are simply endless!
Movie Theme
Generally, a movie theme is one of the most flexible themes there is and there is always something for everyone.
Care to dress as characters from Pirates of the Caribbean, Star Wars, or Home Alone?
Colored Theme
A colored theme is another fun and flexible costume concept. You can pick a character and add a twist by doing your costume in the specified colors:
You can dress up as skeletons for the black-and-white theme, or look like you just came out of a black and white television set, even going metallic would be a great idea.
Animated or Cartoon Theme
If you think Mickey Mouse and Minnie are too cliché, there are a million other animated or cartoon characters you can choose from.
For example, Studio Ghibli has adorable characters , so you can do an entire theme out of that. You have plenty of choices, from Spirited Away, to Kiki's Delivery Service, to Howl's Moving Castle, to Ponyo, to Princess Mononoke.
See more ideas here:
Artworks Theme
If you are a family of artists or if you are art students, nothing can be more perfect than going as famous paintings or artworks by Picasso, Van Gogh or Leonardo da Vinci
Medical Theme
If you are doctors or med students, come as body parts or in something anatomical like this:
Other Cool Themes
Other cool themes worth exploring are:
Classic TV Shows. Golden Girls, I Dream of Jeannie, Bewitched, Dynasty, I Love Lucy, The Brady Bunch, A Little House on the Prairie, The Sopranos, and the list goes on and on.
Mythical Creatures. A dragon, perhaps? Or the mother of dragons? It can also be a phoenix, the Lochness Monster, or a unique take on the mermaid or a merman.
Old and New Video Games. Super Mario is sort of predictable, so you may want to pick out something else. Maybe Commando, or Pacman, or Tetris if you want the old ones. True-blue gamers would not have a problem choosing characters.
All Things Weird. Anything goes with this one as long as it is out of the ordinary.
What is on the Menu? You can dress up as food items, like a bowl of ramen, a slice of cake, a crepe, or a pretzel.
Famous Couples. If you are hosting a couples-only party, picking a Famous Couples theme would be a great idea. Guests can come as Barack and Michelle Obama, Adam and Eve, Samson and Delilah, or Popeye and Olive Oyl. And if you really want to go against the grain, come as salt and pepper shakers.
Board Games. You can dress up as Scrabble tiles, as the Monopoly guy, as the King of Clubs and Queen of Diamonds, or as Chess pieces.
FAQs
How many people in the group are needed to execute themed costumes?
Any number of persons more than one is good enough to consider themed costumes. Couple's costumes can also stick to a theme, like Fred and Wilma Flintstone, Beavis and Butthead, and the breakfast power couple: bacon and eggs. Obviously, you can't do a themed costume when you are alone.
What Themed Costumes Are Inappropriate?
Themed costumes, or any costume for that matter, would probably be considered inappropriate if it is racist or lewd. There is also this thing called cultural appropriation, which is an issue during Halloween.
You may argue that you intend no malice for wearing another culture's traditional costume and that you just find it truly beautiful. However, members of minority groups might not take it that way, especially if their traditional attire has a painful history behind it. There is a movement called #mycultureisnotyourcostume and we must respect that.
As such, it is always a wise decision if you stay away from themes that you think could get misinterpreted or that could potentially offend a group of people. You should also avoid darkening your skin when dressing up as a character of another race.
How Much Do Themed Costumes Typically Cost?
Costumes are priced differently. And even when it comes to themed costumes, they are almost always priced separately or individually per character. The cost of your entire ensemble will depend on the design and the material used.
It is also a different story if you get something custom-made, or if it is something that you ordered from people who make realistic cosplay costumes. Remember that cosplay costumes are more expensive than Halloween costumes because the former are of better quality and better fit.
However, if you want to spend as little as you possibly can, it will help if you are crafty and you know your way around a sewing machine, or cardboard, a pair of scissors, some glue, and some paint.
Pick the Perfect Theme for Your Costumes
Picking a theme for your family's or your group's costume is not really as hard as you think it is. You just need to know your common likes and interests, get your budget ready, and plan what character you would dress as within that theme. Once you have made a final decision, get to work, and execute your idea. Make sure you are comfortable and happy with the character or costume you have chosen, and when it is time to party, just have fun and enjoy yourself with your friends.