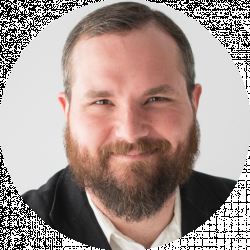 Latest posts by Matt Howell
(see all)
Make Your Friends Green with Envy with These Festive and Fun Looks
Some characters from films, movies, or books can encapsulate an entire holiday and bring pure joy when you think about them. An example for Halloween would be the 'Pumpkin King" himself, Jack Skeleton, or any of the classic Universal Monsters. Christmas also has several characters that get you feeling warm thoughts when the festive season is around the corner, but perhaps the second-most popular after Santa Claus must be the Grinch.
It was back on December 18, 1966, when the 26-minute short The Grinch Who Stole Christmas! first hit television screens, and the green curmudgeon has stayed relevant ever since. There has been a Grinch musical, a video game, multiple movies, TV specials, books, dolls, and more merchandise than you could believe. Additionally, Grinch costumes can be utilized for numerous occasions, making buying or making a costume quite an intelligent investment.
How the Grinch Stole Christmas! is such a fantastic story because of the interesting assortment of characters that the Grinch gets to interact with. The unique-looking Whos who live down in Whoville make for a fun and challenging costume choice for couples, families, or as part of a group costume.
So, whether you're looking for a Halloween costume, a wacky Xmas outfit, or something to wear to your next Comic-Con, consider one of these costume ideas inspired by the beloved classic, How the Grinch Stole Christmas!
How the Grinch Stole Christmas! Costume Ideas
There is something for everyone on this list. All these costume ideas can be altered to be worn by kids, adults, and pets (if you're someone who is into that. No judgment here.) A few of these costumes can be purchased in costume shops or stores as a complete outfit. For a few other ideas, you will be able to find parts of the ensemble in stores.
I have always enjoyed costume hunting in thrift stores and second-hand shops. Although it can be time-consuming, it adds an element of fun finding all the things you need to make a costume on your own. Either way, grab a warm cup of cocoa or some who hash and enjoy these How the Grinch Stole Christmas! costume ideas.
Mean Grinch
Before the Grinch discovers the magic of Christmas, he is an angry person who lives in isolation with only his trusty dog Max to keep him company. This costume is straightforward if you want to buy it from a store, but if you're going to test out your creativity, consider making it yourself.
You will need a full green bodysuit. A morph suit would work just as well. You then want to go to your local craft shop and get some green faux fur. You can then cut the faux fur into pieces that you can slide over your bodysuit. The suit under the fur will help you not to itch. You can make pieces long enough to cover your legs, torso, and parts of your arms or your whole body if you wish. Make or alter a pair of gloves with fur coming out the ends and finish the look with some green makeup and you're all set to go.
What you need for the costume: Bodysuit or morph suit, faux fur, gloves, makeup, or Grinch mask.
Can you buy the costume in store: Yes
Difficulty: 8/10 if making it on your own, 5/10 if buying it from a store.
Santa Grinch
Most Grinch costumes that I have seen involve the Grinch donning the classic wardrobe of the one and only Santa Clause. Intertwining these two looks is instantly recognizable and will be a welcomed addition to any costumed event.
For this outfit, you can build on the prementioned Grinch look by adding the Santa elements. The Santa hat, shoes, belt, and jacket, can be purchased from most costume or parry shops, but you can also make your own with a little bit of time, money, and equipment.
Start with a red jacket or sweater. Buy some white faux fur and sow or glue strips of the fur around the collar, down the middle, and at the bottom. Attach some balls of faux fur onto the back of red shoes or socks. Buy or make a Santa hat (they're cheap to buy), a black belt, and get yourself some white gloves. You're then ready for a night of being naughty and nice.
What you need for the costume: Red jacket or sweater, white faux fur, black belt, white gloves, a Santa hat, red shoes or socks, and green make-up or a Grinch Mask.
Can you buy the costume in store: Yes
Difficulty: 9/10 if you're making the costume on your own. 5/10 if you're buying it from the store.
Max the Dog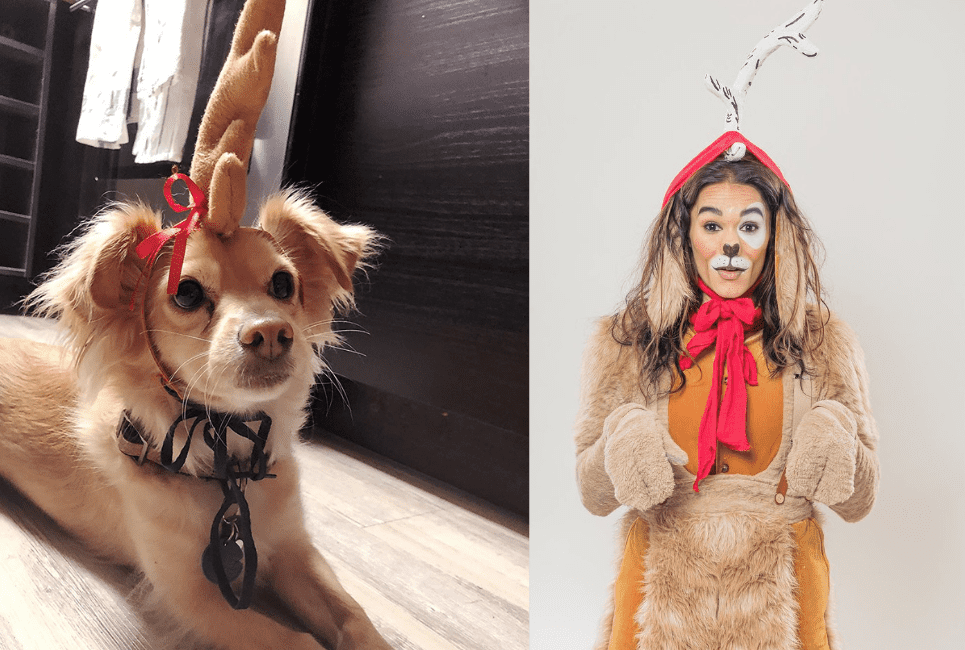 A long-time fan favorite from the Grinch universe is Max the Dog. It's hard to believe that someone so miserable would have such an excellent pet, but Max is the absolute best and makes for an adorable costume as well. This outfit can be pulled off by kids and adults alike, and of course, your pet if they're ok with it.
The Max costume is simple but effective. It makes for a great couple or friend's outfit if you have a Grinch fan in your life. It could also be a part of a Grinch group costume if you have friends that are good at coordinating things like that.
For Max, you need to start with a dog costume. You have several different options for this. You could even use a pajamas onesie if you happen to have one styled after a dog. You need to find or make a red collar with little silver bells on it. If your outfit doesn't have ears, make sure you attach some. You cap off the look with a large white stick to tie to the top of your head. It's an easy but classic idea that people will wonder why they didn't think of it first.
What you need for the costume: Dog costume or outfit, red collar with silver bells, dog ears twine, and a large white stick.
Can you buy the costume in store: Yes
Difficulty: 6/10 if you're making the costume from scratch. 4/10 if buying it from a store.
Cindy Lou Who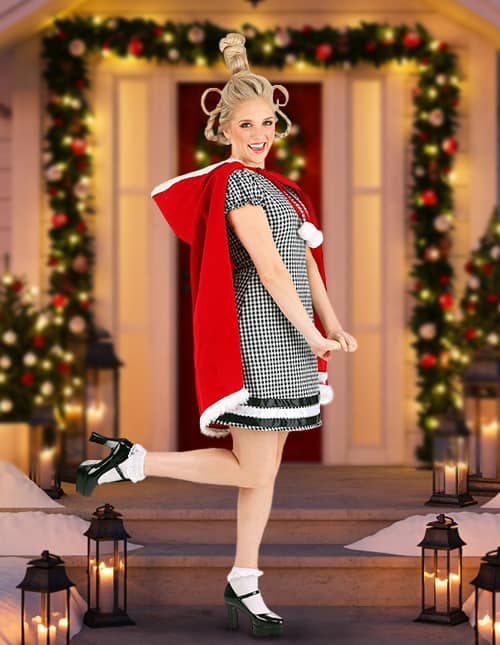 If watching Cindy Lou, Who asks the Grinch why he was taking her family's gifts, didn't make your eyes expel water, you might be made of stone. The tiny ball of joy made the Grinch genuinely appreciate the spirit of Christmas and caused his cold heart to grow two sizes bigger.
You have a few different options when deciding on a Cindy Lou Who costume. You can go with their look from the original book and TV special, which only requires a pink onesie/pajama, pink hair ribbons, pipe cleaners, a short blond wig, and a giant red tree ornament. Or you can be a little more creative and put a look together that consists of the standard "Whoville" garbs.
This is where you can have some fun. There are only a few key parts of the look. The rest of the costume can be based on your interpretation of the character. The essential components of the costume does require a red and green dress or outfit. You can throw in some candy-striped tights or long socks as well. You will need a blond wig that you can make to stand up high and a big red hair bow. Also, find or make yourself a cute little Who nose to finalize the attire. Look at some of the various clothing that the folks wear in Whoville and have fun with it.
What you need for the costume: Christmas outfit, blond wig, wire, large red hair bow, fake nose, red and white striped tights or socks, a red shawl, and flat black shoes
Can you buy the costume in store: Yes
Difficulty: 4/10 if buying it from the store. 8/10 if you're making your own.
Betty Lou Who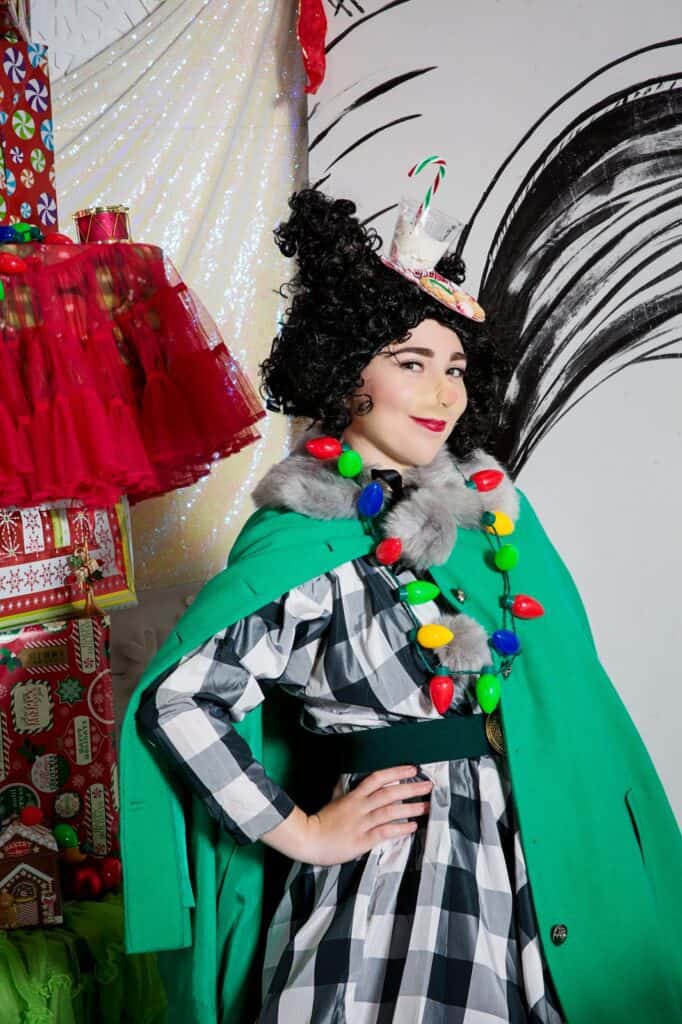 Cindy Lou's mother Betty Lou never had a significant part in the Grinch story until the Jim Carrey holiday staple, How the Grinch Stole Christmas! Hit theatres in 2000. Betty Lou was played to perfection by SNL alumni Molly Shannon. As with most Whos from Whoville, you can alter your costume to make it your own, but Shannon's interpretation had a few incredible pieces that you should include with your outfit.
My favorite look of Shannon in the film is her nighttime outfit, and it would be a lot of fun to put together. You need some Christmas-themed pajamas or just red, white, and green coloured clothing. Next, find a white housecoat, and with some fabric paint, draw horizontal and vertical lines all over it. It would be best if you made a headpiece with white and red suckers and mints. Find the candy and hot glue it to a headband. To finalize your costume, find a string of Xmas lights to wrap around you. If they can take batteries and blink, that's even better. Oh, and don't forget the fake nose.
What you need for the costume: White housecoat, fabric paint, headband, fake nose, mint candies, suckers, Christmas coloured or themed pajamas, and a string of Xmas light.
Can you buy the costume in store: No
Difficulty: 8/10
Lou Lou Who
Now, if you want to expand the Who family costume idea, consider having your friend or child dress us as Cindy Lou, while you and your partner or another friend can all go as one, big happy family. Lou is a great costume for anyone who doesn't like going all out when they dress up. It's a reasonably simple outfit that only when used as part of a group costume.
For Lou, you can get away with only a couple of things that you may already own, or that can be purchased at a minimal cost. Lou only wears a few outfits in the movie, so you can pick one of these or create your own. His most common look in the film, though, is his suit and tie outfit. Get a grey or blue suit. Add a white shirt and a matching tie. You also need one of those fur hats with ear flaps and some glasses. Plus, as a Who, don't forget your fake nose before you leave the house.
What you need for the costume: Grey or blue suit, white shirt, blue overcoat, fur hat with earflaps, glasses, and a fake nose.
Can you buy the costume in store: No
Difficulty: 3/10
Mayor Augustus Maywho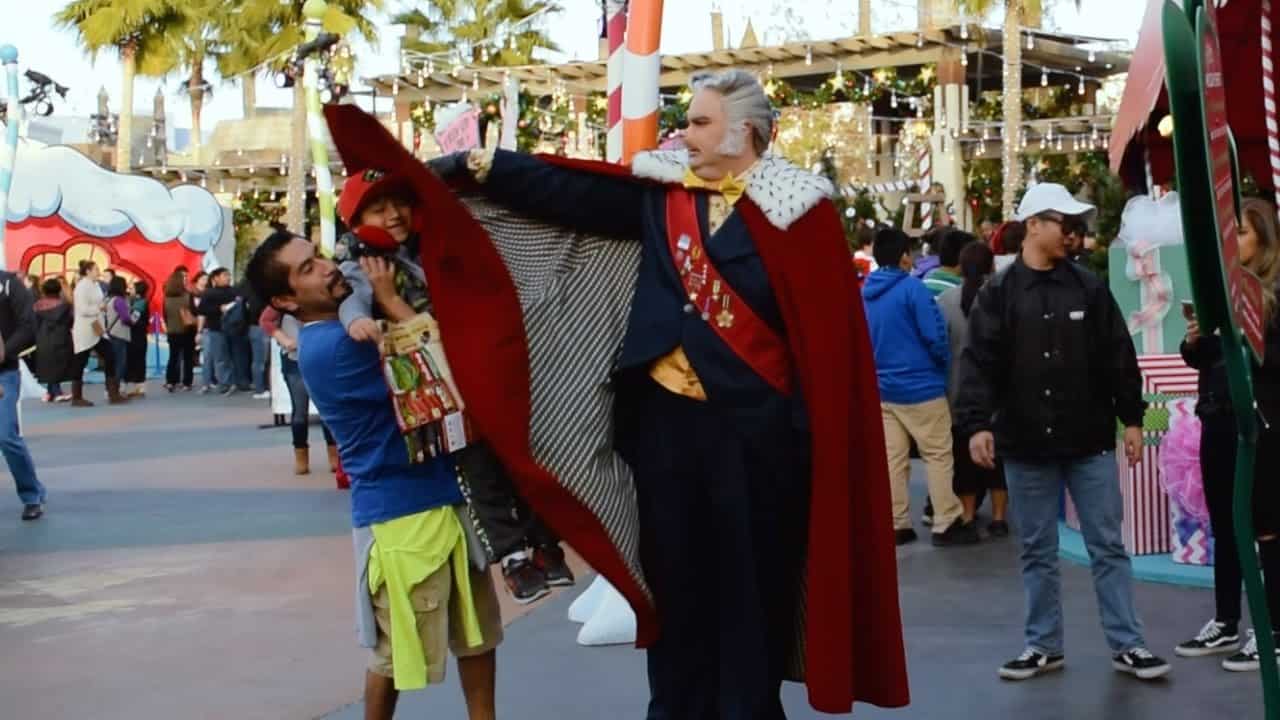 If you're looking for a costume that is a little more majestic and elaborate, then you are destined to dress up as Whoville's Mayor Augustus Maywho. This costume will require a fair amount of work and materials, but the finished costume will be one to be remembered for years to come.
Mayor Maywho's outfit may require you to purchase some pieces from a costume store, while other elements will need to be created by you. Start by getting yourself a dark blue suit. It would be best if you then could find or make a red cape. The cape's collar is a furry white and black material that you could make out of faux fur and a magic marker. You will then need to make an oversized yellow bowtie and a red sash. Find some fake medals to add to the sash. Get a grey wig and curl your hair, so it almost looks like you have cat ears. Add a fake nose, and you're ready to rule whatever party you attend.
What you need for the costume: Dark blue suit, cape, sash, large yellow bowtie, black gloves, fake medals, black shoes, grey wig, and a fake nose.
Can you buy the costume in store: No
Difficulty: 9/10
Mr. Bricklebaum
If you saw and enjoyed the 2018 retelling of the Grinch, you were probably a big Mr. Bricklebaum fan. For anyone how might have forgotten, Mr. Bricklebaum is an overly optimistic person with a deep passion and love for the holiday season. His cheerful nature even has him if the Grinch likes him, which he doesn't, at least not at first.
Mr. Bricklebaum is an excellent option for anyone with a beard who struggles to find a costume that will allow their facial hair to be an integral component of the desired look. To turn yourself into the bubbly Mr. Bricklebaum, start with some light blue jeans or tights. Then find a red sweater with Christmas trees on it. Any Xmas sweater will do. Attach some yellow suspenders to your pants and find a green and red toque, as well as some brown or black winter boots, and you're ready to be festive.
What you need for the costume: Red and green Christmas sweater, blue jeans or tights, a green, and red toque, yellow suspenders, and brown or black boots.
Can you buy the costume in store: No
Difficulty: 5/10
FAQs
Question: How Can I Make My own Grinch Costume?
Answer: To make your own Grinch costume, you only need a few things. Buy some green faux fur and a green bodysuit. Attach the fur to the bodysuit and your head. Put on some green makeup with some whiskers, and you're all set.
Question: What Outfits Does the Grinch Wear?
Answer: The Grinch only has a few outfits that he wears. The main ensemble he wears is a Santa suit that consists of a red coat, a big black belt, shoes, and a Santa hat.
Question: Is it Cheaper to Buy or Make a Grinch Costume?
Answer: It depends on how elaborate of a costume that you want. A Grinch costume in stores will cost you anywhere from $40 to $70. A Grinch costume could be made for cheaper, but it will also require time, materials, and a little bit of skill.
Conclusion
So, here are some How the Grinch Stole Christmas! costume ideas to get your creative flow moving. Also, if this list hasn't gotten you craving egg nog and some shortbread cookies, I don't know what will. The Grinch and his Whoville acquaintances have become entrenched in the magic and joy that the holiday season brings, but they also make great year-round costume ideas. And maybe you can add a little festive charm to life no matter what the calendar says.
Recommended Reads: