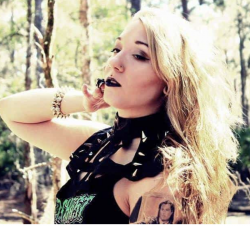 Latest posts by Stephanie Jensen
(see all)
What do you think of when you think of oddball and downright macabre families? Probably the Addams Family! They're extremely creepy and hilarious. Ever since 1932, the spooky clan brought out the dark side in all of us.
From Gomez to Cousin It, there are many classic characters in the franchise. But let's face it — all goth girls (or normal girls with an inner goth side) worship Wednesday Addams. And it's no wonder why. She's not only highly intelligent but extremely creepy, and what better goals are there in life?
There have been plenty of people who have had some serious Wednesday Addams vibes. And they expressed by dressing up as the iconic character. Here are some Wednesday Addams costume ideas plus some great costume examples for inspiration.
What You Need for a Wednesday Addams Costume
One of the best aspects about dressing up as Wednesday Addams is the look is extremely easy to pull off. Here are essential items for the best Wednesday Addams look.
The Dress
One of Wednesday's most distinguishing features is her dress. All you need is to find a simple black dress with a white collar. As an alternative, you buy can a white-collar separately.
The dress should fit your frame — avoid finding a dress that's too tight or baggy. The dress also shouldn't be too short or long. Ideally, the dress should be knee-length. Wear black tights underneath your dress.
Braided Pigtails
Wednesday's other distinguishing feature is her braided pigtails. Her hair color is dark brown/black and her hair length is relatively long, about chest-length. If this is your natural hair, you can braid your own hair to achieve this look.
However, if your natural hair isn't long or dark, you can find wigs to get those serious Wednesday Addams vibes.
Shoes
Wednesday's shoes are simple. She wears black close-toed clogs with a pretty small heel — about 3 inches high. Make sure the heel is thick. These shoes are perfect.
If your child is dressing up as Wednesday Addams, you can avoid the hell altogether. Black flats will work for this costume.
Makeup
Don't worry about glamming yourself up to dress as Wednesday Addams. Her makeup is very minimalist. Focus more on looking creepy rather than beautiful. If you're dressing your child up as Wednesday, you can skip this step.
First, Wednesday is pale. If you naturally have a very pale complexion, you're in luck! You can pull off that traditional goth look with ease.
Even if you have a natural light complexion, make sure you wear a foundation shade that's lighter than your natural skin color. Blend the foundation into your neck so it looks natural. Since your costume covers up your entire body, don't worry about your natural skin color peaking out from under your costume.
If you have a natural tan or dark complexion, don't worry about achieving Wednesday's skin color.
Since Wednesday is young, her character doesn't wear a lot of makeup. Therefore, you don't have to wear much on the eyes and lips. But you can accentuate your natural features while looking creepy.
Wear a neutral but dark eyeshadow, such as taupe, on your upper lids. If you decide to wear eyeliner, keep it very minimalist. Don't worry about concealer — Wednesday's character isn't supposed to look flawless. However, the pale foundation is necessary if you want that undead look.
Lip makeup is completely optional. If you do decide to wear makeup, less is more. Stick to chapstick or a lip gloss that doesn't have sparkle or a lot of shine. Avoid pigmented lipsticks and lip stains.
Keep in mind, the Wednesday Addams makeup look is open to creativity. For example, many Wednesday Addams impersonators have made her look more gothy with black lipstick and intense eye makeup. But if you want to stick to the character, minimalist makeup is your best bet.
Wednesday Addams Costumes for Your Inspiration
Now that you know what makes a great Wednesday Addams costume, it's time to get creative and dress up as the most macabre child in existence! However, many other people have made the classic Wednesday look more unique and individualistic. Here are some looks we love.
Extreme Wednesday Addams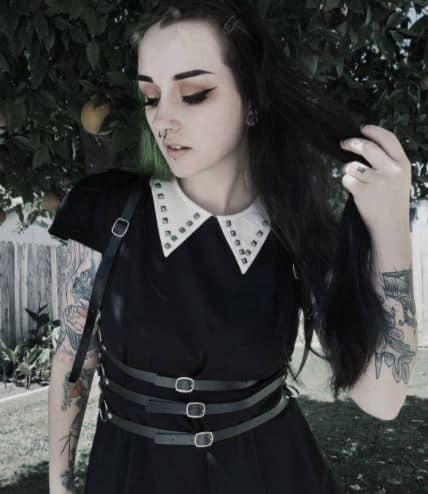 Instagram user gravelilsoul took the classic Wednesday look and made it more extreme with a harness around the waist. The Sourpuss Clothing Wednesday Addams-style dress she's wearing has studs on the collar. The best part is you don't have to wait for Halloween to rock this look. This is an outfit you can pull off anytime — you can wear this outfit to a concert, on a night out with friends, and more.
The Perfect Girl's Costume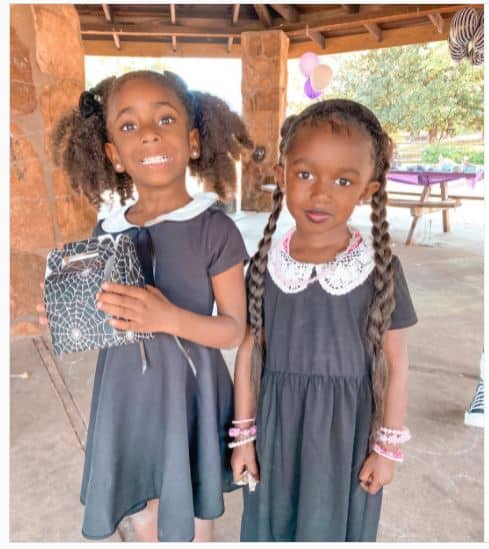 If you're looking for a Halloween costume for a girl or a kid, the Wednesday Addams costume is one of the best options. As stated previously, the two key pieces are the black dress with a white collar and the braided pigtails.
These two girls pull off the look perfectly. They convey serious Wednesday Addams vibes. Since they're young, they don't need to wear makeup. But they did make their costumes a little girlier by adding pink jewelry (though the spider web bag is such a great accessory).
Goth Wednesday Addams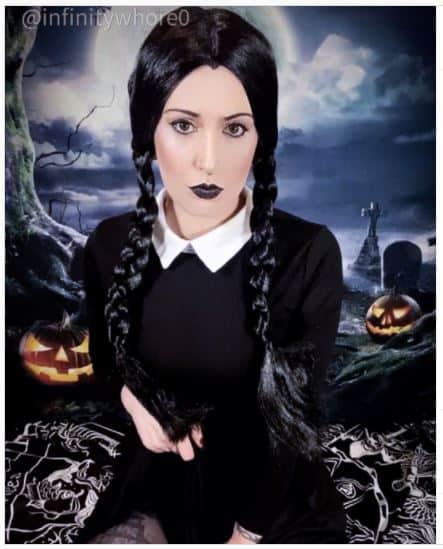 Want to make Wednesday Addams gothier? All you need to do is add a little more makeup! That's what this Instagram user did. The black lipstick, contoured cheeks, and intense eye makeup definitely take this look up a notch.
Add Some Spooky Accessories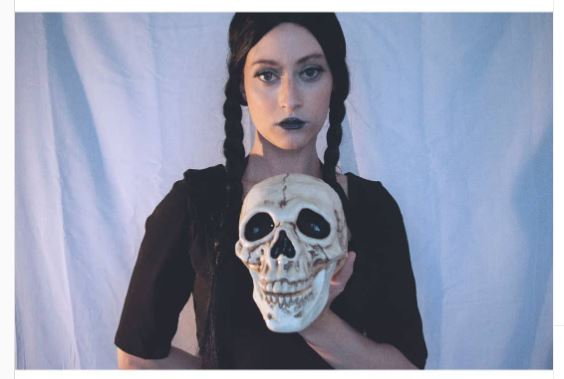 One of Wednesday's best appeals is her spookiness. And that's not something you can convey with an outfit alone. Whether she's threatening her brother or causing other chaos to those around her, Wednesday is a force to be reckoned with.
Instagrammer nikiracos pulls off the Wednesday look perfectly and holds a skull to give off some serious spooky vibes. If you're looking for an easy way to take your Wednesday costume to the next level, what better way to do that than holding a frightening accessory.
Adult Wednesday Addams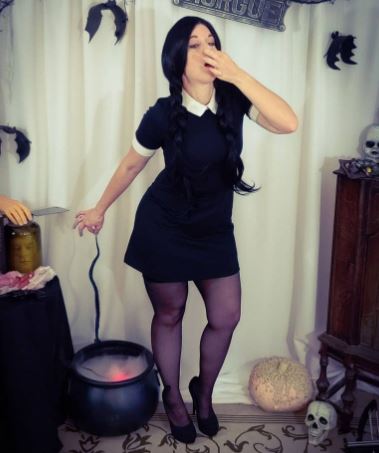 The adult Wednesday Addams costumes are very popular. But they don't have to be sultry. Instagrammer jravensong proves that with this great costume.
She holds Wednesday's true style but adds some transparent black stockings instead of black opaque tights and black stilettos. If you're dressing up as Wednesday for a costume party or on a Halloween date, this is the perfect way to spice up the classic costume.
Wednesday Addams and Thigh-High Stockings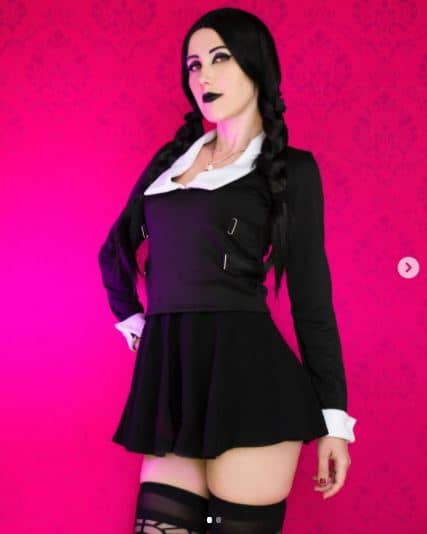 Another simple way to spice up the Wednesday Addams costume is by switching out the black leggings for some thigh-high stockings. That's what molecularagatha did with her cosplay. Her fishnet thigh highs give this classic costume some new life.
Pink Wednesday Addams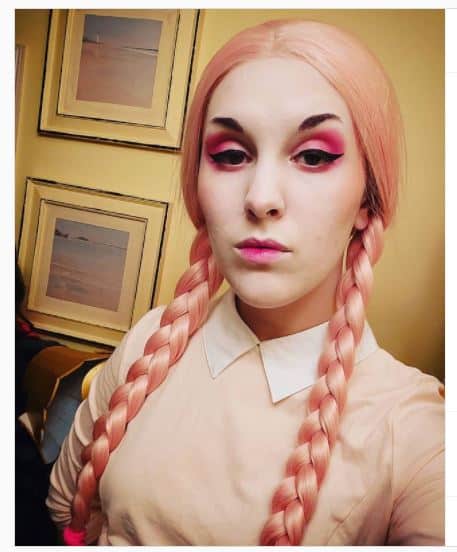 "On Wednesdays, we wear pink." Well, why choose between wearing pink or being Wednesday Addams?
Instagrammer theupsidedowngirl isn't one to choose between two. She pulls off the classic Wednesday Addams-themed pigtails and collared dress, except she wears rose gold instead of black. Her bright pink eyeshadow and lipstick also add a splash of color to the classic Wednesday Addams look.
All in the Family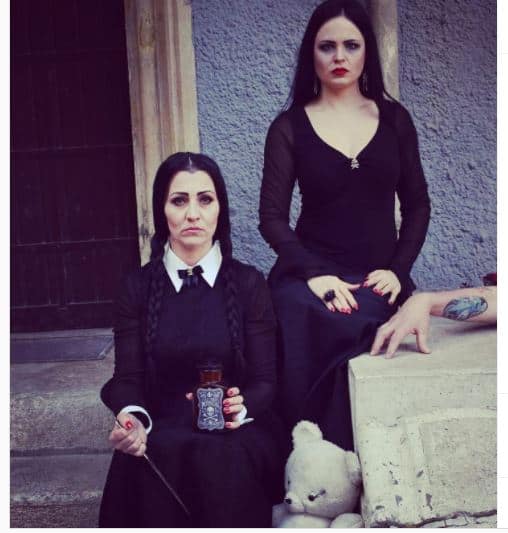 Wednesday Addams needs the rest of her family. Get your loved ones in on the Addams Family cosplay action! In this photo, we have a Wednesday, Morticia Addams, and even Thing (hence the random hand next to Morticia).
Wednesday Addams Cat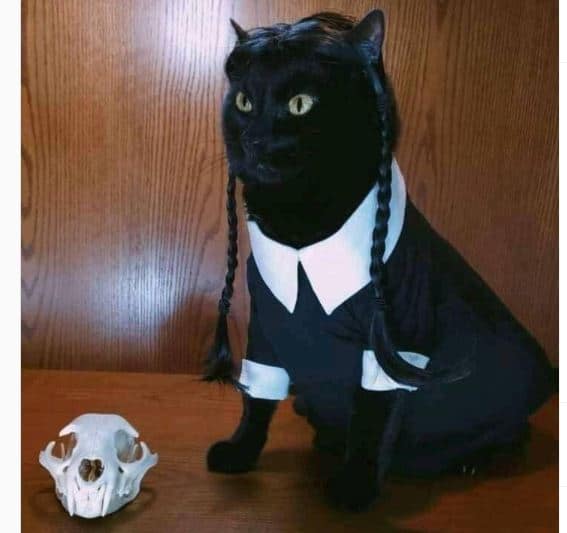 Who said only humans should dress up as Wednesday? Here, this cat makes the most perfect Wednesday Addams!
A black and white collared dress and a braided wig are all your kitty cat needs to look like the spookiest kid in the world. Pair the costume with an accessory such as a skull and you'll have the most frightening cat that truly belongs in the Addams family!
No Black Hair Wednesday Addams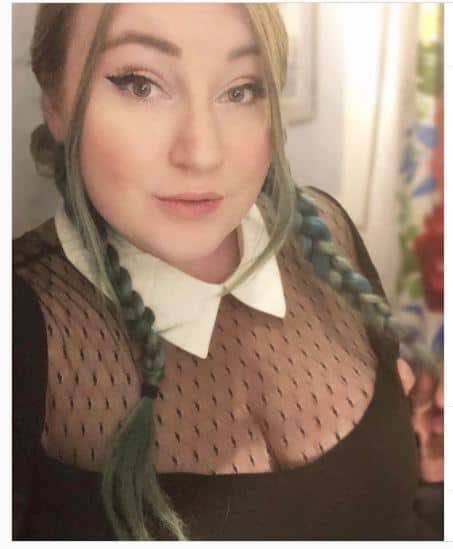 What if your hair isn't black? No problem! Instagrammer inkfeathers proves that people with all hair colors can pull off the Wednesday look. Her hair is blonde with blue at the ends, braided perfectly over her black and white collared dress.
Wednesday With Bangs
As an alternative, you can pull off this look if you have bangs. Instagrammer deceptacon1 braided the length of her hair but kept her bangs and shorter layers out. The result is a cool style that gives new life to Wednesday's classic look.
Friend Costumes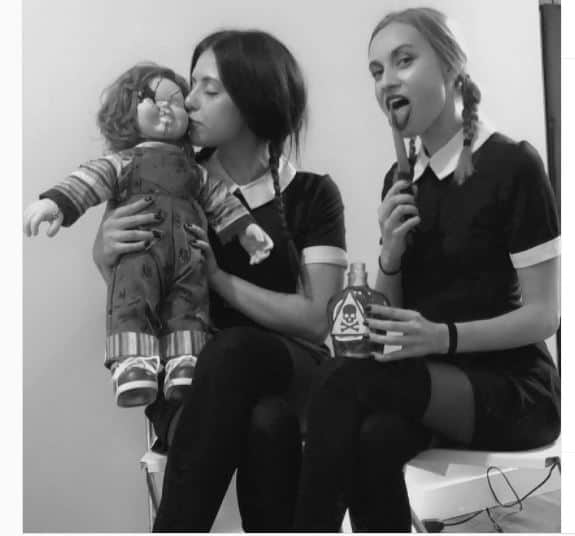 Who said you have to dress up like Wednesday alone? Get your friend in on it and dress up like Wednesday Addams together! Feel free to be like these girls, who complete their Wednesday look like a knife, bottle of poison, and a Chucky Doll (though Child's Play is a completely different movie).
FAQs
Question: What Did Wednesday Addams Dress up as for Halloween?
Answer: If you remember in The Addams Family (1991) film, Wednesday Addams is asked what she's dressed up as for Halloween (she looks the same as she always does). Her response is still one of the most classic lines in the whole movie:
"This is my costume. I'm a homicidal maniac, they look just like everyone else."
If you're wearing your Wednesday Addams costume and someone asks you who you're dressed up as, make sure you say that line instead of simply "Wednesday Addams."
Question: What Are Some Other Good Last Minute Halloween Costume Ideas?
Answer: Wednesday Addams is the perfect last-minute costume idea. You likely already have a black dress and you can put your hair up in pigtails. But if you want other last-minute costume ideas, here are some recommendations:
Cinderella
Minnie Mouse
Cat
Ghost
Tom Cruise from Risky Business
Scarecrow
80's
Zombie
Stereotypical tourist
And more
Question: What Are the Scariest Halloween Costumes?
Answer: Is Wednesday Addams not scary enough for you? If so, here are some other Halloween costume ideas:
La Llorona
Mom from Coraline
Zombie
Devil
The Joker
Killers from The Strangers
Chucky and his bride
Girl from The Grudge
Question: What Is the Most Popular Halloween Costume?
Answer: The top-rated Halloween costumes include:
Vampire
Witch
Batman
Cat
Ghost
Question: How Do You Dress up Like Morticia Addams?
Answer: Would you rather dress up like Morticia rather than Wednesday? If so, the Morticia Addams costume is just as easy! First, you'll need a long, black dress. Make sure it's a maxi dress that fits your frame (don't be afraid to wear a dress that's a little tight).
Then, you'll need a long, black wig. If your hair is naturally long and black, then you don't need to worry about this. Like Wednesday, Morticia is very pale, so you'll need to make your skin paler than natural. Feel free to go crazy with the eye makeup and lipstick — Morticia has a face full of makeup. Finish the look with black stilettos.
Question: What Is Wednesday Addams Like?
Answer: Never saw the Addams Family movies? If not, then close this article now and watch them! But seriously, Wednesday Addams is a character you'll never forget. She's a very grim little girl who's obsessed with the macabre and especially death.
However, the cartoon Wednesday Addams and the character portrayed by Christina Ricci in the 90s films are far more sinister than the character in the series from the 60s. That Wednesday Addams is more sweet-natured, though she does have some odd fascinations. For example, she loves spiders.
Question: How Old Is Wednesday Addams?
Answer: Wednesday's age depends on which Addams Family adaptation you're talking about. In the series, she's very young — about six years old. However, in the 90s films, she's either 12 or 13 years old.
Dress up Like Wednesday Addams
If you want a spooky costume that doesn't take a lot of effort, dress up like the creepiest member of the Addams family! All you need for a Wednesday Addams costume is a black dress with a white collar and braided pigtails.
However, Wednesday Addams is flexible. You can spice up her look by adding accessories, more makeup, and even making the costume a little more sultry with thigh-high stockings and heels.
If you're looking for another spooky costume idea, consider another Halloween favorite — Beetlejuice! Here are our favorite Beetlejuice costume ideas.